BEST TIPS FOR A DESTINATION
Family Reunion
Before you take the plunge into planning a destination family reunion, there are some important facts to know that can help you in the planning process. In a 2017 survey of participants in family reunions, it was determined that the following points were the most important for having a successful reunion:
 Vacation rentals are the most desired accommodations
Families prefer it when people ditch the devices
Quality free time is preferred over a lot of games or activities
The reunion is often centered around shared meals
Based on all of these important points, it makes sense to opt for a destination vacation in a place like the Dominican Republic for several reasons:
It hits all of the crucial needs and wants of people coming for the reunion,
It's more affordable for larger groups, and promises to be absolutely unforgettable.
The memories you will make on the North Coast of the Dominican at Casa Linda are irreplaceable and something every member of the family will treasure forever.
Here's why:
Vacation homes are like a home away from home – but with amped up luxury and services.  You can all be together in the beautiful gated community of Casa Linda and you can book your vacation homes close by each other. At the same time, every visiting family will have their own privacy and down-time with private pools and other amenities in-house.
Spread the Love…and the Work:
Too often at family reunions, a lot of work falls to a small group of people. With a destination gathering, no one needs to bear the brunt of the work. With laundry, housekeeping, food delivery or in-house chef services, the reunion will truly be for everyone to enjoy quality time and leisure activities together without having to worry about much else.  We can also help your group with large scale restaurant reservations – even plan specific dinners, bag lunches, or special events.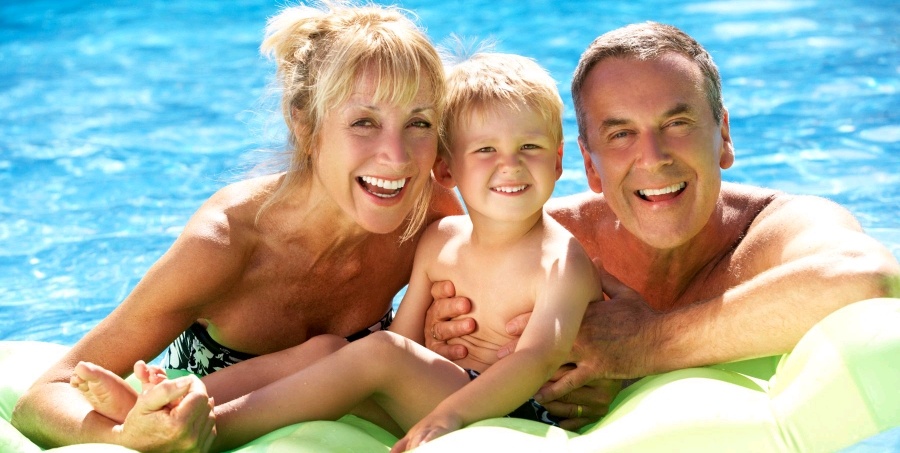 Do Lots Together.  Or Hardly Anything.  We'll Help As Much Or As Little As You Like.
On that note, because quality time is the goal of every family reunion, you can be as busy, or as relaxed at you choose. Maybe you just want to all hit the beach together – take the free shuttle and hang out in the sunshine and play in the waves all day! With large villas with incredible outdoor spaces, your group can play together by the pool, swim up bars, or outdoor kitchen all day.  Just don't forget the sunscreen!  At night, spread out in large living rooms to watch tv, or play cards at the dining table on the terrace.  Many groups use one villa as a central meeting point, but retire at night to their private spaces.  Don't forget all there is to do onsite too:  mini golf, bocce ball, tennis, and pool.
We also offer a huge variety of planned excursions, all handled for you.  Take the group to Ocean World, or on a monster truck for the day.  Paradise Island is a great day for a large group and we can book special excursions just for your family.
Take in the kite surfing at Cabarete Beach and finish the evening with a beautiful upscale meal in the sand. We can even set up your own special dining experience, just for your group.  We're here to make it special.  Take a Puerto Plata city tour – see the Amber Museum, get an ice cream in a centuries old square, ride the only cable car in the Caribbean.  How about a spa day?  Or golf?  It's all here and planned particularly for your large group.

Need Special Spaces?
If you require a conference like facility or large meeting space, we have that covered too. Casa Linda has an event space for large group settings as well as a restaurant to cater meals.  Just let us know your needs or have our travel planner help you plan your next family event!
Whatever you decide to do, you can do it on Island Time, adopting the Dominican philosophy of "tranquilo" to take everything in stride. On that schedule and with so many stunning sights to see, who will have time to be looking at their phone? (Except to take photos, of course!) A destination vacation to Casa Linda Villa in the Dominican Republic hits all the marks of a meaningful and successful family reunion that everyone is sure to cherish and remember!  Be the Hero of Your Family Vacation!
Some Great Activities For Older Kids and Adults:
Why Share a Crowded Hotel Room?
We Have Vacancy!
Our complimentary travel planner is standing by.