Hoping to make the most of your next tropical vacation? If you've got your eyes on the Dominican Republic and want to make your getaway one for the memory books, a private villa rental is an ideal way to elevate your escape and embrace your time in paradise. While many travellers may be tempted to entertain the idea of the many resorts and hotels in the area, most are surprised to learn that private villas have just as many perks and are often more cost-effective. Whether you're looking to book a once in a lifetime honeymoon or treat your family to a vacay they'll always remember, your passport to adventure starts with Casa Linda. Learn more about the perks of private villa rentals below!
Unbeatable Privacy
One of the most prominent perks to renting a villa during your vacation is the luxury of true, uninterrupted, privacy. Relax in the quiet of your own space, free of the chaos of the crowds and chaos typically found in popular resorts. With plenty of space to accommodate the whole family, everyone can rest easy in their own personal bubble.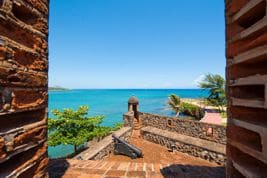 Comfort At Your Fingertips
Want to feel at home, even while you're abroad? Unlike a cramped hotel room, villas are welcoming, spacious, and feature plenty of common amenities that make it easy to relax in luxury.
Perfect For Groups
Planning a family reunion? Looking to celebrate with a destination wedding? Villas are the perfect solution when it comes to accommodating large groups or families. Multiple bedrooms make it easy for everyone to have their own space, as for the duration of the trip, as well as multiple common areas to socialize. Feel like a quiet night in with a family meal instead of going out? No problem! Casa Linda's villas feature fully stocked kitchens, among with a bevy of other amenities for you to enjoy.
Treat Yourself
Treat your loved ones to the ultimate luxury while basking in the quiet of your villa with the many options we have on hand. Enjoy a private dinner prepared by a professional chef, feel your cares melt away with a massage, and even have your own private butler on hand for a one of a kind experience. Whatever your style of luxury is, we're here to make it a reality!
Discover The Joy Of Your Own Private Hideaway Today
Contact Casa Linda to learn more about the Dominican Republic vacation villas today!